Marigot - St. Martins French Capital
Your Kite Charter Start St. Martin
Saint Martin is an island in the northeast Caribbean Sea, approximately 300 km east of Puerto Rico. The 87-square-kilometre island is divided roughly 60:40 between the French Republic and the Kingdom of the Netherlands. The island's traditional pre-colonial name is Oualichi which means "the island of women".
Collectively, the two territories are known as "Saint-Martin / Sint Maarten", or sometimes "SXM", the IATA identifier for Princess Juliana International Airport, the island's main airport. Everyone knows the picture of the KLM 747 flying low over the beach. worldwide known photo.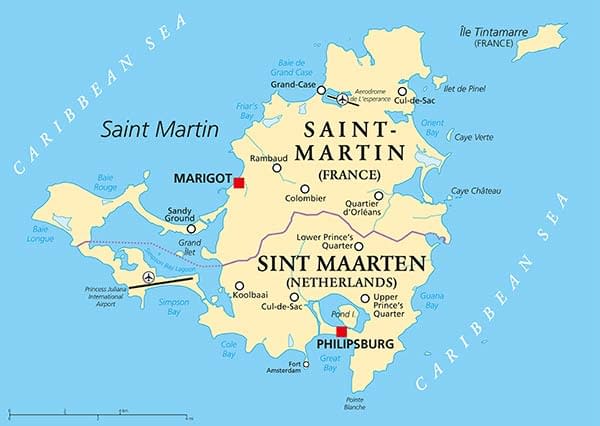 Here in St. Martin begins your never forgetting kite charter trip.
The Vibrant Cuisine of the Caribbean Islands
We could have lunch at the Karibuni restaurant https://www.lekaribuni.com/restaurant which is entirely made of wood to respect the environment. Besides this insider tipp there are of course many other options to have delicious lunch. If you want to know what food specialties the Caribbean you don't want to miss out on you can read it up here.
And here you have another Caribbean moment to just enjoy the white sand under your feet. We are surrounded by shallow turquoise water under a shiny sun. In addition a fresh cocktail in your hand (serious kiters of course can have non-alcoholic drinks) sitting on comfortable beach chairs will round everything up for a perfect holiday.
White Sunny Beaches
Our luxury catamaran yacht Sunrise is anchored at Islet Pinel, a small island for day tourists. And we recommend to start that early because in the morning before 10 am the beach only belongs to us.
We can launch our kites from the boat. You can also start from the small beach and have a nice kite session if you are up to it. Protected water behind the anchorage is a good start to get on the board. But this is just an idea. You can do anything you desire. Snorkeling, scuba diving, wakeboarding, kayaking. 
The dinghy is always in the water for those in need of assistance or beginners.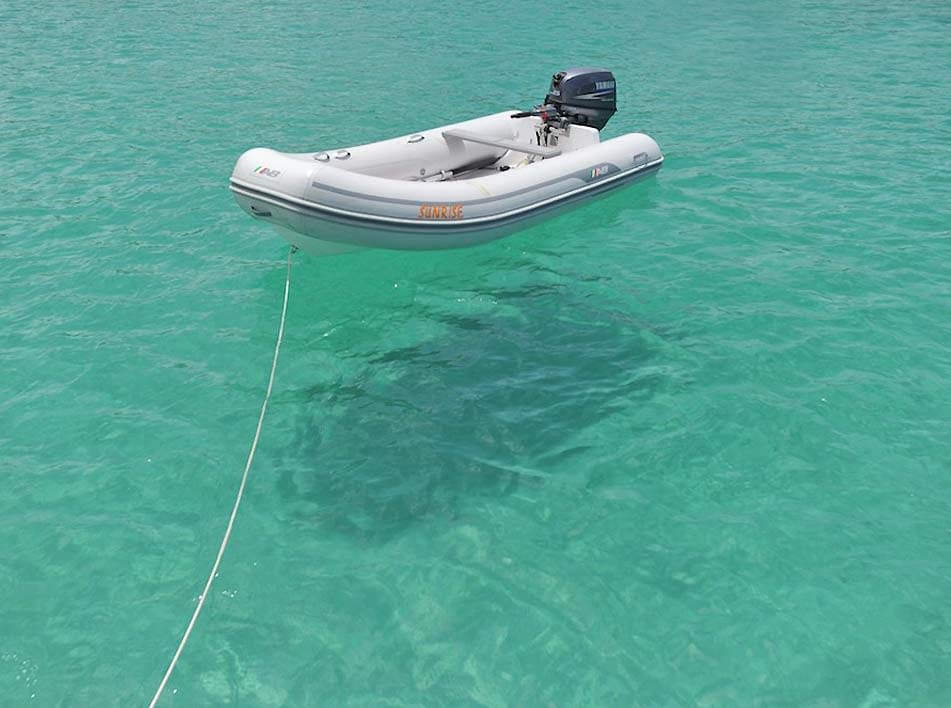 By the way: All meals on board of Sunrise are included in the vacation package. Depending on the cruising ground we normally have all breakfast, lunch and about 3-4 dinner/week on board. A glass of beer or wine will be served with dinner
Kitesurfing With Coaching
We are invited back to the Sunrise for the next kite session after lunch. By the way: Willi as professional skipper and kiter can coach you if needed. He will always be available for any questions you might have.
In addition the laid-back atmosphere and surrounding natural beauty is typical of that Caribbean charm. All things put together ensure the best setting for you to have your dream vacation.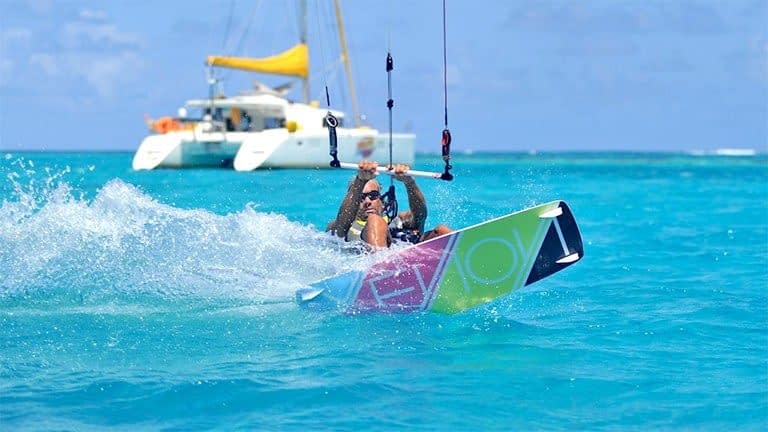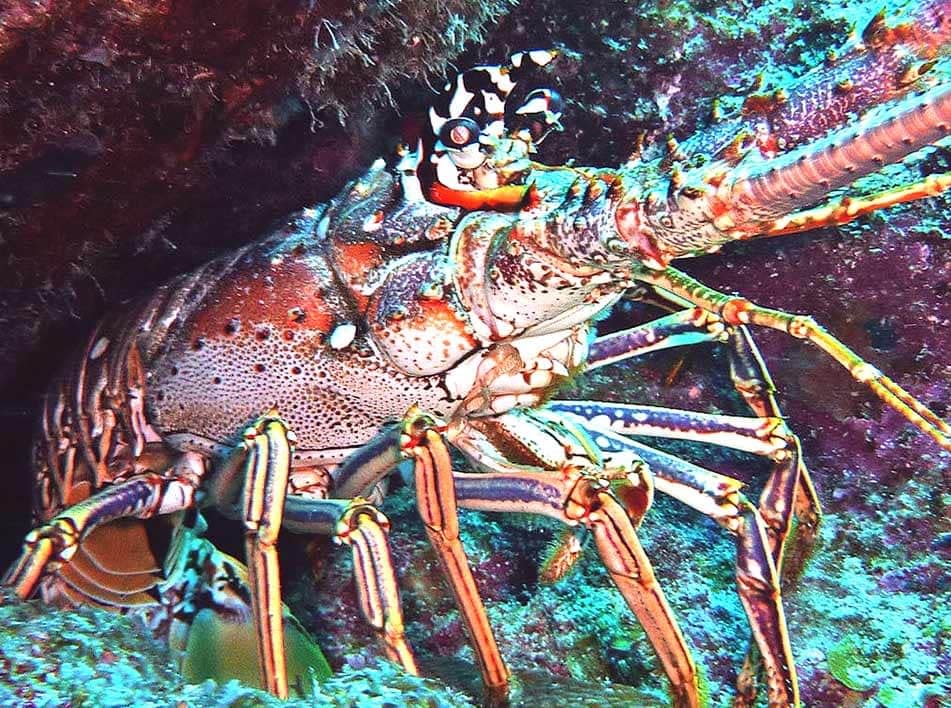 Freshly Cought Seefood
We can enjoy BBQ on the boat since kitesurfing and most of the activities make really hungry . If we see the fisherman before, with fresh caught Mahi Mahi, a local beer or french wine at sunset.
This is just an excerpt of a kite and sail cruise charter to be continued. You should have a good idea now of what you are going to experience cruising with us. We are looking forward to meet you and make sure your Caribbean vacation is unforgettable.
Review from happy customers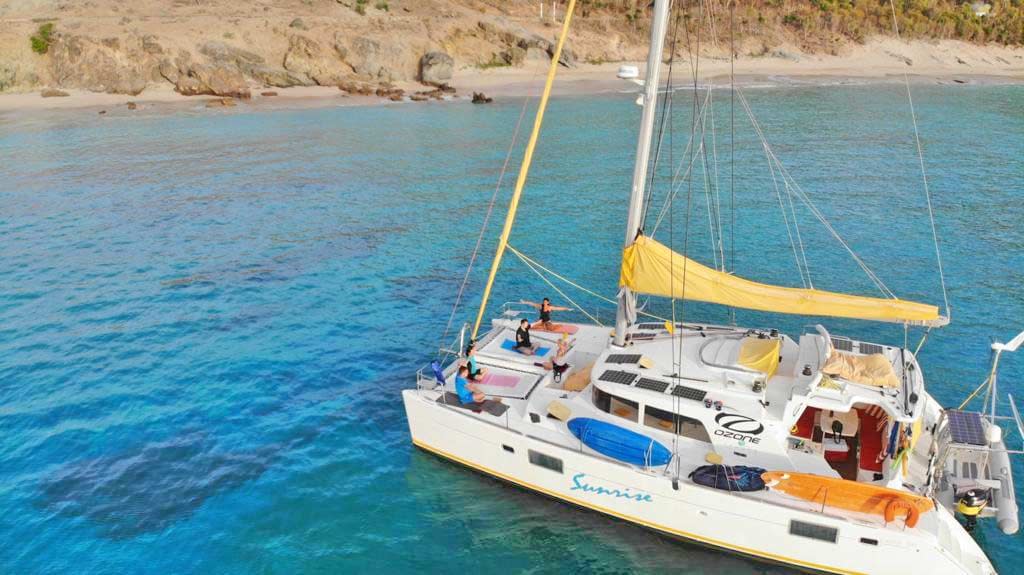 Between the yoga sessions we could explore the island world by kayak, SUP or on foot, snorkeling, diving, kiting or simply relaxing on the beach, in the hammock or a cozy beanbag on deck.
There was a nice change between eating on board, sometimes with freshly caught fish, or restaurants and cookshops on various islands.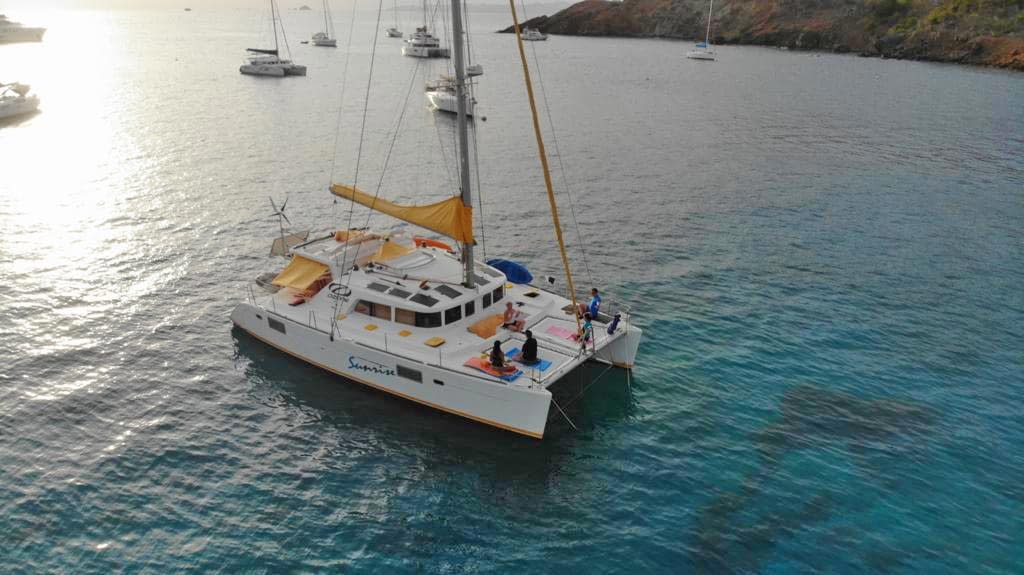 Simply enjoy the sun, feel the wind in your hair and the sand between your toes and soak in the smells of the sea!
We had great yoga sessions twice a day. Either on the freshly stretched Katameran net, or on the sandy beach of various islands. The newly discovered wooden platform elevated above the beach of Pinel with a gigantic view also wonderfully seved this purpose!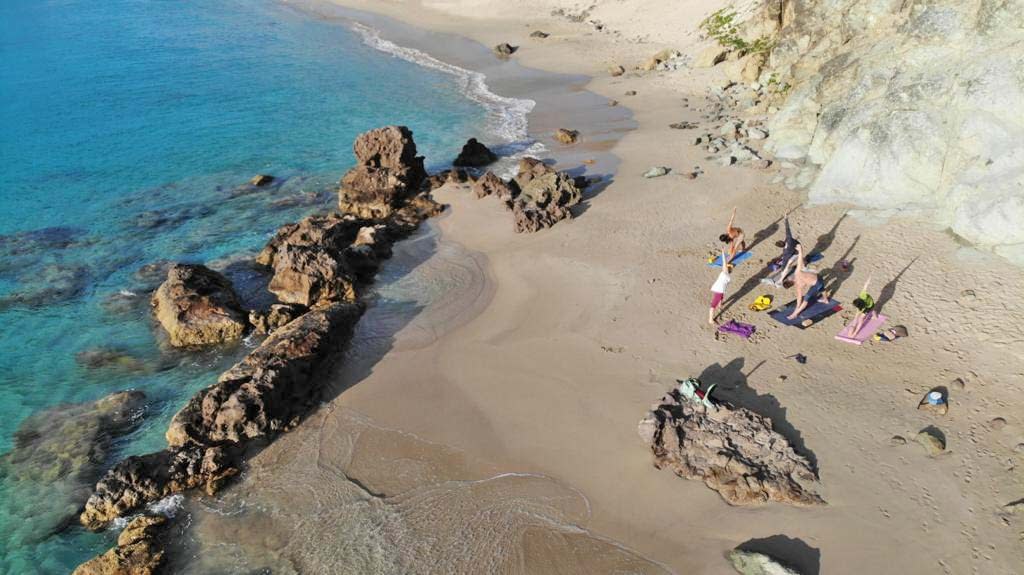 One evening we met your friends from St. Martin for a BBQ on the beach, enjoyed the sunset, had fun eating, drinking and dancing!

Perfect holiday feeling!
Many thanks to Sunrise and also to Birgit, our yoga trainer!
ANITA
Go for your dream and spend some incredible time cruising the Caribbean